www.LivinDoll.org.uk
Joy's Beauty Tips

4 :

Get a Sexy Shape
Exercise and Diet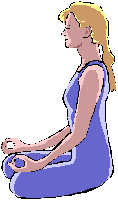 Men usually develop fat around the stomach, when you want it around bust and especially hips. You can't easily add to the right places, but you can certainly make a difference to that tummy. Ten sit-ups regularly every morning will trim your waist, and you can do it easily at home in 5 minutes, without joining the Gym. Lie on your back on the floor with your feet braced against the wall, legs straight; reach up and try and touch your toes. Set yourself a target, you will do ten every day! Believe it or not, you do feel better for doing it. Don't follow faddy diets but eat 25% less by simply using a smaller plate. Cut down on the beer too, to leave room for girly drinks when dressed!
Tighten a slack jawline by tipping the head back, stretch the lower jaw and blow twenty kisses all over the ceiling. If you do work out, try cardiovascular excercises like cycling for health, shape and stress relief; develop pectoral muscles if you wish, but definitely no bodybuilding or weights! In fact why not try a back or Indian Head Massage, or Acupressure (not Acupuncture)? All you have to do is sit there while you get yourself fondled - I'm sure you'd rather radiate what a happy, natural girl you are, rather than getting too stressed to even want to dress in your lovely womens' clothes.
Get enough sleep, and make time to go for more walks and do things you enjoy, to protect against illness and feel more positive. I find St. John's Wort tablets daily work well as a mild natural anti-depressant.
Trim That Tummy (more)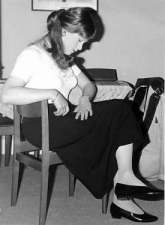 OK, you ignored my excercise advice, or need more help! Young women - and TVs - want to show off their curves and emphasise them, whilst older ladies - and TVs - like to hide certain curves because they are all in the wrong places! Well TVs need to compress or hide the waist.
Adding, without subtracting curves, makes you look fat. Slim first the easy way with a waist corset or cinch; and buy skirts to fit the reduced waist size. If not, even with hip padding, skirts and dresses will still look loose and unattractive around your hips.
Avoid ageing full corsets or bodyshapers that compress the hips, or bulky suspender styles which you know no woman has worn for many years. Your corset should be chosen for smoothness under clothes, and be 4"-5" smaller than your male waist size. Sexiness does not count in this case; effectiveness and comfort does.
Suspicious Shapes?
Old socks or cotton wool simply won't do. Most women want bigger breasts, hence the wonderful sounding gel-filled bras you can buy now. They aren't really the answer unless you really are female. Underwired bras are often uncomfortable, and liable to ride up with wear, especially if your bust isn't actually part of you. The cups often look overflowing, badly-fitting and unrealistic even on most women.
There used to be inflatable bras, but the lack of weight was unrealistic. "Add-A-Size" bras are not suitable because they are designed for a very tiny rib cage, such as on a 12 year old girl. Wallpaper paste inside HEAVY DUTY balloons is a very cheap way to get a lovely bounce and feel. Replace them every few wears to avoid disaster, and avoid brooch pins! They are good for those on a tight budget and can easily be replaced. They are however, hardly what a woman would wear!
The vast majority of you will not have breast implant surgery, so I won't go into the types of implant. If you are considering the major expense and trouble, do be aware that they don't last for ever, and need to go under the muscle for 100% realism. Some models go for the cheaper just-under the skin two half-tennis ball look, but that is likely to prove a mistake.
Added Assets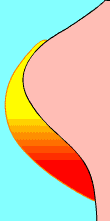 Products like "Breast Friends", or silicone "outplants" that you can put in your bra, have become easily and cheaply available, making expensive surgery pointless. You may be able to get away with just these - or else you can go for full breast forms, as worn by women after mastectomy (breast surgery for cancer). "Victoria's Secret" or "Atlantis Panache" are examples of a silicone and water bra respectively. They can take you from an A to a C cup, and feel quite real.
Padded bras can look as good as unpadded, under semi-sheer tops. The soft "Fiberfil" is usually disguised by a flowery or lacy pattern, preferably over a skintone layer. These are designed to show the flowers looking as if they are directly on your real bust. The cups may be sewn in two or three sections, the latter sometimes simulating pert nipples to disguise the clever enlargement, as well as suggesting youth and sex.
All about Bra Styles
Beware of strange bra colours that are hard to match, and half or threequarter cup styles, which are glamorous only if you have a real cleavage on show, and do not properly support a breast form. You may have to use them when you need a strapless or multiway style for a low-cut top or dress. In that case, still aim to get a bra with as much coverage as you can, perhaps with transparent detachable straps.
I recommend you wear a Diva Cleavage Enhancer to pull what you have together, available to buy online here. You can enhance your cleavage even further by using porous medical tape. Apply in a diagonal slight vee shape from below your arms immediately under your nipple to below the centre of your bust; it will then be too low to show. Never use "Duck" or "Sello" tape, as perspiration builds up underneath and cannot escape. You will then scar your skin getting it off. Like any woman who wants a dramatic effect, I sometimes use double-sided Girlie Tape (holds clothes at the right position too), available in Claire's Accessories (£2.50). For maximum effect add a little highlighter to the "half-moons" on show, and a little beige upside-down triangle of shadow in your new cleavage, fading towards the edges.
Breathtaking Boobs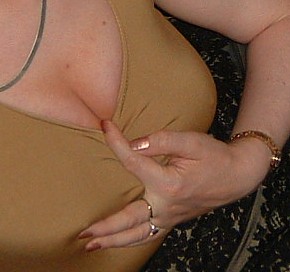 Unfortunately, only the Diva works well. All the above are designed to jack up and show off what you have. If you have no bust at all, you must have full silicone breasts to get the best look, weight and feel, and these must be worn in a full cup seamfree or moulded unpadded bra. I like micofibre bras, which are so comfortable, and subtly show my nipples. I prefer white or skintone like most women, as black can look tarty through any clothes that aren't also black.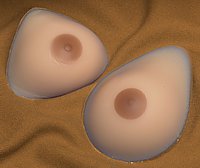 "T-shirt" bras may or may not be padded, but the cups are unpatterned, in a pre-formed or moulded ideal-breasts shape. Your breasts can look very round and realistic, especially if you have the weight inside and bra flexibility to give them bounce (try it as you go downstairs). This type is best for making them look extremely smooth and temptingly touchable, especially under clingy tops.
Breasts are a big purchase, but well worth it. Get them from a mastectomy specialist or the many TV suppliers, and make sure your bras are the right, same size. Recent research has shown 56% of women are unhappy with their body shape, and 70% wear the wrong bra size for best comfort and appearance. You needn't have this problem! The "teardrop" shape is suitable if you are thin and the heart or triangle shape if you already have a bit of a bust.
Previous: Get Lovely Legs Next: Dress to Impress