www.LivinDoll.org.uk
Joy's Beauty Tips

5 :

Dress to Impress
Heavenly Hips
Many of us think our slim legs are our best feature, the envy of many women with fat legs. Some of you wear very short skirts instead of fuller ones, in the mistaken belief that short may hint that you have nearby girly bits; but too spindly thighs will much more likely hint that in truth, there is nothing girly about your upper legs and hips! Thin upper legs and flat bottoms simply don't look female! So what can we do? Though you can get bottom-uplifting panties, this will not make any noticeable difference. Real women have bigger, often much bigger hips and bottom, than you. If you ignore this, but especially if you are tempted to have big boobs, you will look all wrong.
There are various places that provide padding to help give you bigger hips, and / or flatten the dog's danglers, but unfortunately not many of these garments are entirely satisfactory. Most are poorly made and not cheap, though those from Catherine Robertson are robust and strong. Many look wrong under delicate clothes. No-one yet makes silicone hips as such, because they would burst when you sit down! What is required is a strong smooth corset, flat panty, and fat, all-round feel-soft bum and hip pads all in one product. It should contain Lycra so it is comfy for long periods and doesn't dig in, with a choice of a hidden zip so you don't have to take it off to pee, or none for the ultimate flat front smoothness.
I have at last found some hip-shaping solutions - Available in several styles to buy online here
Choose shapely Clothes
The right choice of clothes does help. A shapeless dress or long jacket for example with lots of buttons over black trousers will slim generous hips. But you want wide hips, so wear a soft, short, flared semi-fitted dark jacket with only one or two buttons (under the bust to emphasise it). The jacket when worn open, will give the illusion of a smaller waist. Team this over a smart brightly-coloured (and hence hip-emphasising) short lined wraparound skirt and stretchy top, or trousers with (also hip-emphasising) pockets on your hips. These examples show off and highlight the contrast between your full breasts straining forward, (corseted) womanly small waist, and (thanks to you hip and bottom enhancer) childbearing big hips! You can always wear net underskirts too for even more rounded hips, with pleated or flowing skirts.
You probably already know your correct dress size, and realise you must be in proportion (not improbably buxom) to look appealing. This table Women's Sizes for Men will help you get your correct size, before ordering clothes via adverts or auctions.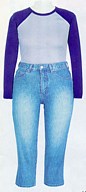 However much we love skirts and dresses, especially if we don't get the chance to wear them much, the fact is most women wear trousers nearly all the time. If we are going to look real, we must too. However, women's trousers are subtly very different. They are softer, stretchier and can be every bit as girly. Even jeans, if they are carefully shaped, faded in the right places, maybe with a few sparkly decorations or subtle embellishments, worn with the right dangly belt, can really emphasise your feminininity. They don't have to be blue either. If you do wear blue, try a pair with pink stitching, preferably with a side or rear zip to emphasise that smooth girly front, after you've tucked anything bulgy firmly away.
Unless you buy hip and bottom enhancing garments, it is difficult to look convincing in trousers. I can however also recommend Falke 'Shapes' Contour Panties from MyTights (see left), which although only available in black and not helping your hip width, greatly helps you to get a Kylie or J-Lo look sexy bottom at a very reasonable price.
Many trousers now for younger women are very low-slung on the hips instead of the waist, to show off a bare midriff. Let's face it, you probably don't want to do that, unless you are really young and slim. "Waist-off" styles will make your hips look the same size as your waist, unless you wear a hip and bottom enhancing garment. Because a woman's waist is 2" higher than a man's, the effect of wearing such a pair at your natural waistline may allow them to fit your larger waist better and also appear tighter and flatter underneath. However, a higher waistband will be better balanced. The bottom of the trousers should ideally be shaped to be narrower towards your feet, to emphasise your girly bottom and hips (rather than "bootcut" or flared). If you must wear flares, they should be long enough to cover your high heels, but have splits or be ruched up so we can get a sexy flash.
A pretty shaped belt worn low on the waist adds curves to a tall, slim figure, draws attention from the sides of the waist to the buckle or clasp, and adds to the essential proof that you are a girlie.
Never wear leggings. They look cheap and crap even on most women! Our kind of ladies suit "easy-fit" three-quarter length trousers. They appear to shorten your legs if you are too tall, emphasise pretty shoes and like culottes (divided skirts) preserve modesty when you need to in public. Remember, aim for soft materials. Stretchy is good, but go for lined or thicker material, not cheap unlined, to avoid showing the join between your outer thighs and hip and bottom enhancing garment or other padding.
Previous: Get Into Shape Next: Preen and Prepare