www.LivinDoll.org.uk
Joy's Beauty Tips

7 :

Magnificent Makeup
Your base or foundation should take 80% of your overall makeup time to apply. The first step is to even out your skin tone and make it look perfectly flawless, then the secret is to use light and shade to create an illusion that you really look much better than is to be expected! Remember light brings forward, dark makes a feature recede.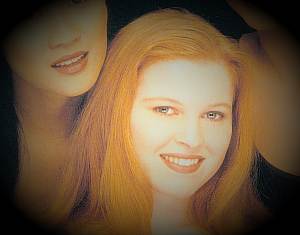 Don't overdo makeup, especially in daytime. Sounds obvious, but everyone's done it. Usually your choice is between thin pigment foundations designed for young girls, which help, but leave major beard shadow; or sludgy orange slap sliding down, which is asking to get clocked in daytime by the local yobs (as well as women, who tend to be much more observant)! Remember, you want everyone to forget you are wearing makeup. Even if strangely dressed, it is better to look like a woman with no taste, than to look to women as if you are making fun of them.
I usually recommend few specific products, as there are so many to choose from, but concentrate on technique. However, one that covers all, without looking heavy is best to cover all imperfections, including beard shadow. If correctly applied it is foolproof, the ultimate solution. Remember too that (except in photos of top models which are professionally lit), a photo of any woman will have natural shadows. These could be interpreted as beard shadow if someone suspected your gender, on extremely close inspection. But no-one will be looking for a beard if you act naturally.
Beware of so called "medium" foundation, which is a strange colour unlike anyone's skin tone. To get that (vital) correct colour (which must be as near your facial skintone as possible) test it on the forehead. Your beard area will be too dark for testing, while cheeks or hand may be too red. Coverage is usually too thin, but can be reasonable if you get the right product and layer it. Use makeup remover tissues or cotton wool pads or balls rather than tissues.
How to apply your makeup properly
1. You must do your makeup in good, well-distributed light so you can see what you are doing properly. Consider installing a new mirror in a better place. When daylight is not available, use a professional makeup mirror, or a concealed strip light on both sides which works better than a single one above.
Before you begin wash your hands and face. A cleanser is not essential, but gives a deep clean, removing grease that would otherwise reduce your makeup's staying power. You can use a moisturising base before applying fopundation, but again it may reduce the staying power especially if it is hot weather. Ensure you have enough quality brushes and sponge applicators, and that they are new or clean. This helps avoid spots. Keep all your makeup in a clear bag to reduce the need to rummage.
3. Blend a little moisturiser first into any dry or flaky areas, but not all over, as foundation contains some anyway. Blot with a girly tissue. Careful with any product round the eyes and don't rub, or you will get lines! If you already have them you can get line fillers, but I think they only really work if you cannot move your facial muscles due to Restylane or Botox injections (Yuk)!
4. Apply foundation to dry skin. Push or wipe gently onto the beard shadow areas, using one shade lighter than normal. Then 5 minutes later apply a further layer in the nearest shade to your skintone. Or dot ordinary oil-based foundation in tiny blobs all over your face and upper neck. (Use water-based if oil-based irritates your eyes). Use a proper clean foundation sponge, not your finger, for even coverage; and blend gently away around the throat and hairline. It should seem to disappear as you apply it, and should be applied thinly. You can always add more if it's too thin, but not successfully remove too much without starting again.
5. If you can see tide marks or thicker patches, your colour is wrong, too thick or badly blended. (However, a slightly darker shade is required for photography, to compensate for the glowing particles in many foundations, and to avoid looking "washed-out" especially at night.) If you have large pores, keep your foundation in the fridge on a hot day, and the coldness will help close the pores and make your skin look smoother.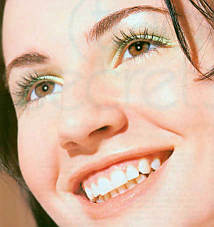 Powder gives a natural finish
Coloured powder should not be used, as it changes the base colour. Pat translucent loose setting powder on gently with a clean puff or large soft brush. Include eyelids sparingly, but be very careful not to get any in your eyes, as they will look red, especially in photos. Brush off the excess with a very large soft brush before you put your blouse on and scatter it everywhere. Run a damp finger over your eyebrows to remove excess powder.
Concealer touches up remaining imperfections
If you want you can then use a (slightly lighter or same as your base) concealer, such as YSL Touche Eclat (£22) for dark circles under eyes, or a general concealer stick for the rest. I don't recommend using this before foundation, as it tends to get removed by putting foundation on. [Concealer you can blend gently and carefully with fingers if you prefer.] Lastly paint concealer very precisely and sparingly with a firm brush to cover solely any spots, but not surrounding skin, and pat with your powder puff. (For ultimate flawlessness, gently twist a touch of foundation and powder in one onto the spot with a cotton bud, to add another layer and blur edges. It isn't vital.)
A pressed powder Compact is best carried in the handbag, for repairs.
Now you are ready to paint the perfect canvas you have made!
Previous: Preen and Prepare Next: Eyes and Eyesight