- Be The Woman You Know You Are! -
Welcome to LivinDoll...
Get a Feminine Top Now at eBay!
* Joy (right) presents detailed Clothes, Realism and Style Advice;
* Cleavage creating "Diva" and hip and bottom enhancers from Ladylikeshop;
*

Wonderful one-off Designer Jewellery made specially with T-Girls in mind at Ladylike-U;
* Bargain Hunt at our Girly Clothes Auctions:
Get Dresses, Boobs, Shoes, Wigs, Handbags, Tops, Skirts, Makeup, Jewellery, Shapewear and much more;
* Original romantic Girly Stories about special ladies like you by Kaye, Abby, Vicki and Steve;
* Ladylike Videos of LivinDolls from Diana and Helen to download;
* Pretty photos as below:
* Admire LivinDoll Sisters, Beauties and Friends ;
* View Girls Nights In, Favourites,
* On holiday with Laguna Nights 1, Laguna Nights 2, Swimming Fun;
*Buy feminine coloured Contact Lenses;
Do you have a female mind in a male body? We adore being feminine. We feel it is very unfair that society often doesn't like men to express their feminine side, or sample the advantages that real women have. From the mail we get, we know crossdressers and transsexuals face discrimination too. We aren't interested in kinky. We do our bit to educate, and relieve guilt or stress. For all who wish it, let's help conquer fear, understand and enjoy why some gentlemen need to be a lady too.
Read some of Joy's story in a 2011 Tunbridge Wells Courier
---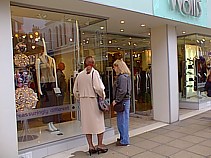 Exclusive: Ladylike VIDEOS of LivinDolls (Windows Media format)
**Compressed for dialup connections, but Broadband is recommended for best results.**
---


Exclusive: exciting mainly free E-BOOKS - GIRLIE FICTION for quick self-extracting download:
A lovely 95-page original story, beautifully illustrated, especially for us girlies...
Richard Burnside becomes the right woman for the job in
1) "Richard's Maiden Test" (639k) by Kaye Lester (right).
Available by chapter, or in full.
Other Stories:
2) "Claire Lives" (93k) by Kaye Lester
3) "A Mother's Tale " (128k) by Abby Reader
4) "My name is Vicki" (81k) by Vicki Marsh
5) "The Tangled Web" (217k) by Steve R.
6) "The Perfect Gift" (252k) by Dianne Kendall of "Pampered in Panties" fame
7) "Pampered In Panties" - The7 Unread Stories! (212k) by Dianne Kendall
8) "Princess Heaven" (35k) by Jasmine
9)

"Big Bully to Little Girl" (42k) by Jasmine
How you can help: We publish anything clean and on a ladylike theme. Stories, photos, links, articles, beauty tips we all can share.
Don't be shy, we respect your talent!
---
<< Chloe
for male crossdressers from
top agony "Auntie" Ruth >>

Please Help, He's Not Normal!
for wives and female partners only of Transvestites, from Chloe Springfield (left) at Ladylike