www.LivinDoll.org.uk
Joy's Beauty Tips

2 :

Be a Stylish Stunna
Don't be unrealistic
You can only show some of the real woman you are inside, on your outside. Be honest with yourself; decide and accept which features will not look perfect. Then you can enjoy making the most of your good points. You will then be confident, and naturally radiate your true beauty and femininity.
Chuck out the Chintz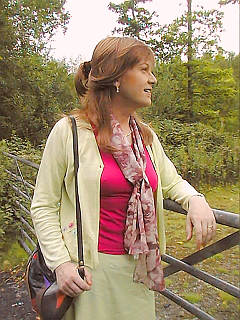 Every woman's wardrobe consists of 50% stuff that is out of date, or doesn't really go together! If you don't get rid of this, it becomes impossible to choose what is going to look good on you. If you haven't worn it in the last year, you never will feel right in it, and there won't be room for the new stuff (you know you want it)! Start by sorting clothes by outfit, not by type. Put to one side and bag up what is left for the local clothes bank. I ended up with about six mauve items which were all slightly different clashing colours, for instance. Never keep it in the hope of buying something that matches later, it just doesn't work! If you have an expensive dream dress, like the sort of ballgown Audrey Hepburn wears in the original film of "My Fair Lady", then keep it. But think realistically when can you wear it? Concentrate on getting your main (especially daytime) clothes right, so they'll be appropriate and convincing for your audience.

Sort through your cosmetic bags. Put your essential makeup items you always use in one bag, those you often use in another. Think whether that lurid gren nail polish really suits a woman of your age? Be strict and chuck out the rest, especially clumpy mascaras and partially dried-up products, and anything over a year old (including your makeup bag if it is dirty). If a lipstick smells slightly off, so will you! Get New Lipstick

In a shop, silly! - No, seriously, lots of girls think they should use mail order or the internet to keep their identity secret. That's fine. If you do, check their returns policy and watch out for hidden costs, such as import duty, VAT, required returns authorisation or deduction of return postage. If you are trying to hide it from your wife (why?) and you order as "Mr.", be aware that they may put "Mrs." anyway out of habit, and she may open your parcel.

If this is likely, better to buy from a larger store, where you can usually take more time to look around without too many sales staff volunteering to assist. Unless you look good, buy in male mode, as it will be harder if you are worrying about passing as a woman at the same time (and whether they will let you use the changing rooms). They don't usually ask who it is for, but if they do and you don't want to say it's for you, then say it's a present. Always keep the receipt, until you have peace and quiet to be sure it's for you. You can always take it back if it doesn't look right.
How can I be in fashion?
You can't; it means different things to different people, and changes constantly. Of course there are some rules:
Just buy matching clothes regularly and you will stay up-to-date.
Look carefully at women to see what those of your age wear, and think hard why a top or other item works (or doesn't).
Keep it classic and simple. Instead of being tempted by the flashiest outfits, buy quality, stylish basics in plain colours. These will be much easier to match with other things in future than patterns. Set the look off with one more dramatic piece.
Buy quality, timeless items in more expensive shops; if you must wear something that you know won't be "in" next year, use a cheap shop.
Don't be afraid to buy bright, light clothes: girly pinks, sweet oranges, sky blues, dreamy lavenders, minty greens and sunny yellows. These quietly, but very powerfully, insist "woman" because a man wouldn't usually wear them. Be careful with white or cream though (unless for your sweet virginal wedding dress). It can look dirty even after washing, and may reveal how unusually bulky or misshapen your underwear is!
Teenage Tart or Foxy Mama?
Many TVs make the mistake of dressing like a teenager in public when they are more mature in years. Fine, great for provocative photos at home or in in private houses or closed venues. But ask yourself, would a real woman be embarrassed to be seen with you? If the answer is "Yes", maybe you should try looking "mumsy". "Not for me", you may say, but what could be more natural than looking like a mother? Whether you have a young child with you or not. It doesn't mean you can't be beautiful. Particularly if you are, shall we say, more generously proportioned, a flowery dress looks pretty and totally appropriate, which is a benefit that not all of us can share or look good in. Mumsy women really do make people want to cuddle them.
Suits you, Madam
You know best whether you are a tarty Clubber-Scrubber personality, or want to be like me (I wish!) a fluffy Lady of Leisure who "does Lunch" in her business suit. That is your choice, but women are much less concerned with what they wear than whether it looks right. Ideally the whole outfit should all match and should all be bought together. Mixing non-matching separates is definitely not recommended for pretend ladies unless you really do know what you are doing. Fortunately in shops and mail-order catalogues, each item is usually teamed with or near to others that match. At first this seems expensive, but actually saves the inevitable throwing out things later. You can also experiment and save money buying your dresses.
Shoes and Boots
Why do women wear high heels? Well not for comfort! To look taller, yes. But above all it forces your bottom up provocatively, makes you arch your back and thrust your bust out. It also makes you walk daintily in smaller steps. So if you are tall, don't wear flat shoes to compensate. Use optical illusions like horizontal stripes and medium length skirts, to seem shorter and wider.
If you are new to dressing, start with black court shoes in your normal size, with a 2"-3" heel. These will cover most situations at first, and when you are ready you can get lots more pairs including some boots in a neutral colour. Watch out for too-narrow straps on sandals that cut into toes. Resist higher heels; go higher than 3" only if you are short and practised. Especially on backless shoes or mules, after a couple of drinks, there is a real risk of twisting the ankle, plus sudden collapse of diva.
Handbag Hint
The ultimate feminine item. But your first should be a sophisticated shiny black (or black and tan) shoulder bag that you can wear with anything. It can still be small and girly, eg. a round or heart shape, not like a shopping bag. It should be easy for you to open, and not so tiny that you can't get your mobile phone in it in case of emergencies. Clutch bags get lost too easily. Eventually you will build up a lovely collection of pretty practical soft leather, satin, faux-fur and beaded handbags that match your poutfits. Everyone will envy your style, but only if you get your clothes right first.
A Mini Adventure
To make your mini skirt look sexy, not tarty, don't try too hard in other areas of your look! - Wear closed-toe court shoes or boots, not open-toed sandals. Don't have a low-cut top - if you are showing off most of your legs it's best not to show so much elsewhere. One subtly exciting look, is to contrast a floaty pink mini with a fluffy black sweater, nude stockings or tights and black shoes.
Previous: Who am I and so what? Next: Have Girlie Attitude